01603 721590
Page Generated:
5 Feb, 2023 07:10:49
Colourful Foam Playmat Set 123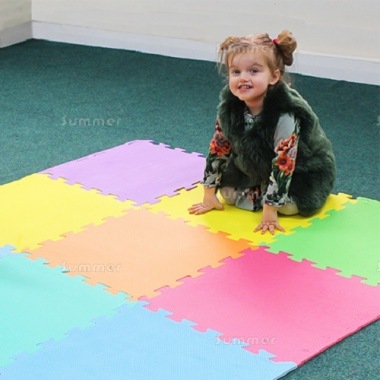 Summary:
This play mat set features interlocking multi coloured EVA foam tiles each measuring 29.5cm x 29.5cm. The tiles easily click together to provide a soft play area for children and extra protection to surfaces. Suitable for children aged 3 and over.
Prices fixed until Wednesday 8th February.
The prices INCLUDE DELIVERY within 1-2 weeks. Unlike others we do not add delivery charges at the checkout. Everything you need for assembly is supplied including instructions and all necessary fixings.
| Option | Price |
| --- | --- |
| Playmat set, 9 tiles | £9 |
| Playmat set, 18 tiles | £15 |
Delivery
Delivery is normally within 1-2 weeks after order
Delivery is available to any address in the UK, except the Channel Islands
Mainland delivery throughout England, Scotland and Wales.
Offshore delivery to Northern Ireland, the Scottish Isles, the Isle of Man, the Isle of Wight and the Scilly Isles.
We are currently unable to deliver to the Channel Islands or the Republic of Ireland.
We always have a large stock of this item available for immediate despatch.
Our prices include all delivery charges - unlike others we do not add delivery charges during the checkout process.
PERFORMANCE DATA: Average 5 days before dispatch, 91.23% delivered within 3 days of dispatch, 100.0% delivered within 10 days, 0.13% reported damaged. We check the performance of our carriers regularly and publish the results. These small and lightweight parcels are hardly ever lost or damaged but the delivery period is a few days longer. We prefer a slower service which is more reliable for these smaller products, which are easily lost by most carriers.
Ordering/Payment
ORDER ONLINE: You can pay with a debit or credit card. We also accept password protected online payments using Verified by VISA or Mastercard SecureCode.
METHODS OF PAYMENT: We accept most major credit cards and debit cards including VISA, MasterCard, VISA Debit and MasterCard Debit. We also accept secure online payments using Verified by VISA or MasterCard SecureCode. We do not accept American Express or Diners Club cards at present.
SCHOOLS, COUNCILS AND BUSINESSES: We supply many schools, local councils and businesses both large and small. The prices and terms are the same so you can order online if you wish. If you want to pay by BACS transfer or company cheque please email us.